We offer a sponsored refund plan for anyone to discount your AUXITO LED Light Bulbs products! If you meet the plan requirements, we will refund 10-20% of your order. The requirements of the program include the correct tagging of us on public social media and the provision of 2-5 high-resolution professional photos/display videos. If you have any question(s), please email: support@auxito.com
Sponsored-Refund-Levels specified by AUXITO: 10-20% Refunds. AUXITO reserves the right of final interpretation to the activities.
This is the discount we offer, and the process is simple!
1. Order from AUXITO.com and enter "Sponsored" in the "Discount Code" section. (Please note: This discount cannot be combined with other discounts. THIS CODE MUST BE ENTERED AT CHECKOUT PAGE. Previous orders cannot use this refund discount retroactively!)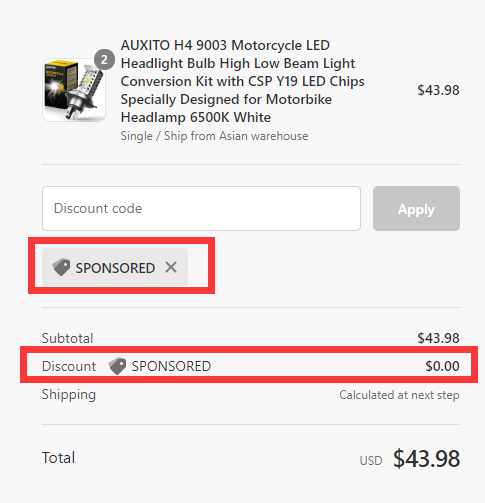 2. After installing the product, POST at least one photo or video on the public social media account (Facebook/ Instagram/ Youtube) and correctly tag.
Tag Facebook: @auxitoled
Tag Instagram: @auxitoled
Tag Youtube: @LED auxito
The content must add "https://auxito.com/" to identify the official website.
3. Fill out the following submission form, including your 2-5 high-resolution photos for refund review. Please wait 1-2 weeks for processing.
4. Refunds will be issued as per the discretion of the sponsor according to the fulfillment of all requirements. We look forward to seeing your vehicle running our products!