Illuminate Your Dad's Day: A Father's Day Gift Guide for LED Lights by AUXITO
"A father is neither an anchor to hold us back, nor a sail to take us there, but a guiding light whose love shows us the way."
Father's Day is a time to celebrate Dad, and everything he means to you. If you can arrange to be with your dad on Father's Day, nothing beats the gift of giving your time. But regardless of your proximity to your special guy, giving him a gift will show how much you care or, at the very least, that you put some thought into making this Father's Day a special one.
AUXITO has prepared a Father's Day gift guide for you. Start planning today to give your father a pair of bright LED lights, not only for his driving safety, but also for giving him an unforgettable experience of LED retrofitting and upgrading, our Father's Day gift ideas are sure to make him smile.
CODE: FATHERSDAY619
If your dad enjoys camping or is always keen to travel in the countryside, he will need headlights that provide high visibility while on the road. LED headlights give him a wider view of the road and allow him to clearly see wildlife on the road for driving safety. Interior lights make it easier to use at the campsite when stopping to rest during the trip. Whether you're looking for tools or checking your navigation, the interior LED lights can provide plenty of light and are very energy efficient.
| | |
| --- | --- |
| | |
Product Recommendation
AUXITO Q16 Series

 

LED bulb

 

adopts 1:1 beam pattern

 

technology and

 

0.039-inch ultra-thin

 

baseboard to concentrate the beam on the farther road and gives you confidence and peace of mind on dark roads.
Retractable LED lights

 can be better adapted to the installation of interior lights, quipped by 18pcs 4014SMD LED chipset, 500% brighter than a halogen bulb.
If your Dad travels a lot for work and is annoyed and unhappy about the rain and fog, the best gift is the fog light bulbs that improve driving visibility for your Dad.
Since headlights can be too bright in low visibility situations and reflect into the driver's eyes, fog lights are safer and more preferred by many drivers.
While fog lamps are designed to inch your way slowly through poor weather situations where visibility is reduced, like in misty, rainy, foggy, or dusty weather, brake lights and turn signals are the lights that make your driving intentions clear to other drivers. The LED switches on faster than the incandescent bulb and this is noticeable, especially on vehicle brake lights. It switches faster even in cold weather and tells other car owners what you are about to do next.
Product Recommendation
Yellow fog light is preferred for rain and fog and heavy snow, 3000K gold yellow light has

better penetration and visibility

. You can also choose cool white fog lights to make the fog light color consistent with the color of the headlights.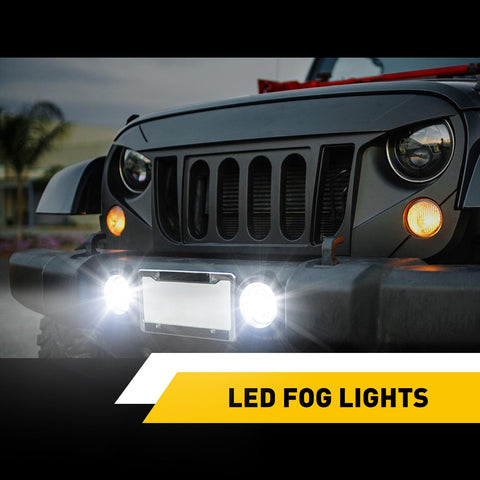 High brightness turn signals, taillights, reverse lights, brake lights, plug and play, fast response.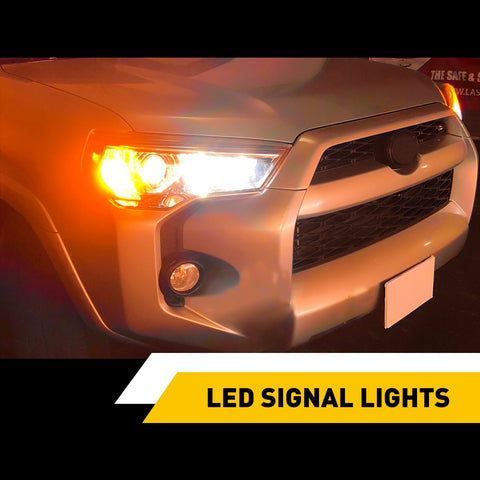 For the
loves DIY
Dad - The Whole Set LED Lighting
Dads who love DIY will keep everything fresh and like to do what they like with their hands, and the LED light kit upgrade is the perfect choice.
After product research and user feedback, we have matched the best complete set of upgrades for Toyota, RAM, Ford and more. You can easily choose to give your dad a complete set for a full LED light upgrade without checking the model owner's manual to determine which bulb type is needed, reducing your selection concerns. And you can spend a weekend afternoon completing a full set of LED light upgrades, and you and your father will feel the fun of getting your hands dirty.
If your dad is a keen motorcycle rider, then he must be full of a deep spirit of adventure.
That could be because of the general risks of riding, or those who embark on round-the-world rides. Whatever the reason, motorcycles are a universal symbol of freedom. Despite having a reputation for being reckless, motorcycle riders actually have to have twice the awareness of a regular driver in order to make up for bikes' inherent lack of safety features. We can also improve the riding safety of your dad from equipment upgrades, LED lights that can see further down the road are a no-brainer.
CONCLUSION
We hope you have everything ready to go and make the day worth remembering. Cause him to feel valued and loved. Have a cheerful Father's Day!